Xiapex Injection for Peyronie's Disease
Based on current scientific evidence, Xiapex is the only non-surgical treatment that has been proved to have a significant impact on the peyronie's plaque and on average leads to a 35% reduction in penile curvature – however, the results vary significantly from patient to patient with some experiencing even greater improvements.
How does it work?
The signs and symptoms of Peyronie's disease are caused by a collagen plaque. Injection of Xiapex into a Peyronie's plaque, which is comprised mostly of collagen results in enzymatic disruption of the plaque. Following this disruption of the plaque, penile curvature deformity and patient suffering caused by Peyronie's disease is reduced.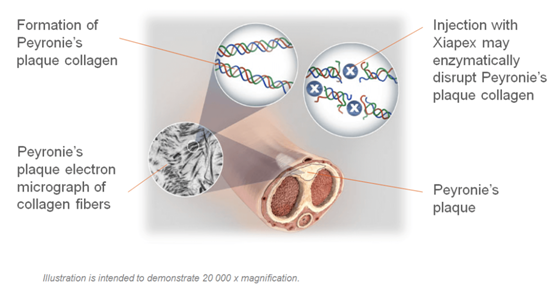 Our doctors have been trained exclusively to administer Xiapex injections and we have integrated this treatment option as a first stage of treatment for Peyronie's disease (learn more about our treatment protocols here).
The results of our patients to date are very encouraging and in our opinion, this treatment completely changes the landscape of peyronie's disease management, allowing patients for the first time to start treating Peyronie's disease from the onset of the disease.
To find out more about this treatment, please contact our Patient Co-ordination team on 02031312933 or read our Frequently Asked Questions below.
Xiapex Treatment FAQs
I am suffering from a what I suspect is Peyronies disease, what should I do next?
If you believe you are suffering from Peyronies and it causes you significant concern we advise you to see a specialist urologist/andrologist.

Our doctors have vast experience treating Peyronies and our clinic is an international referral centre for patients suffering from this condition. We would be happy to review your case and treat you in our clinic.
x
LEARN MORE ABOUT PEYRONIE'S DISEASE